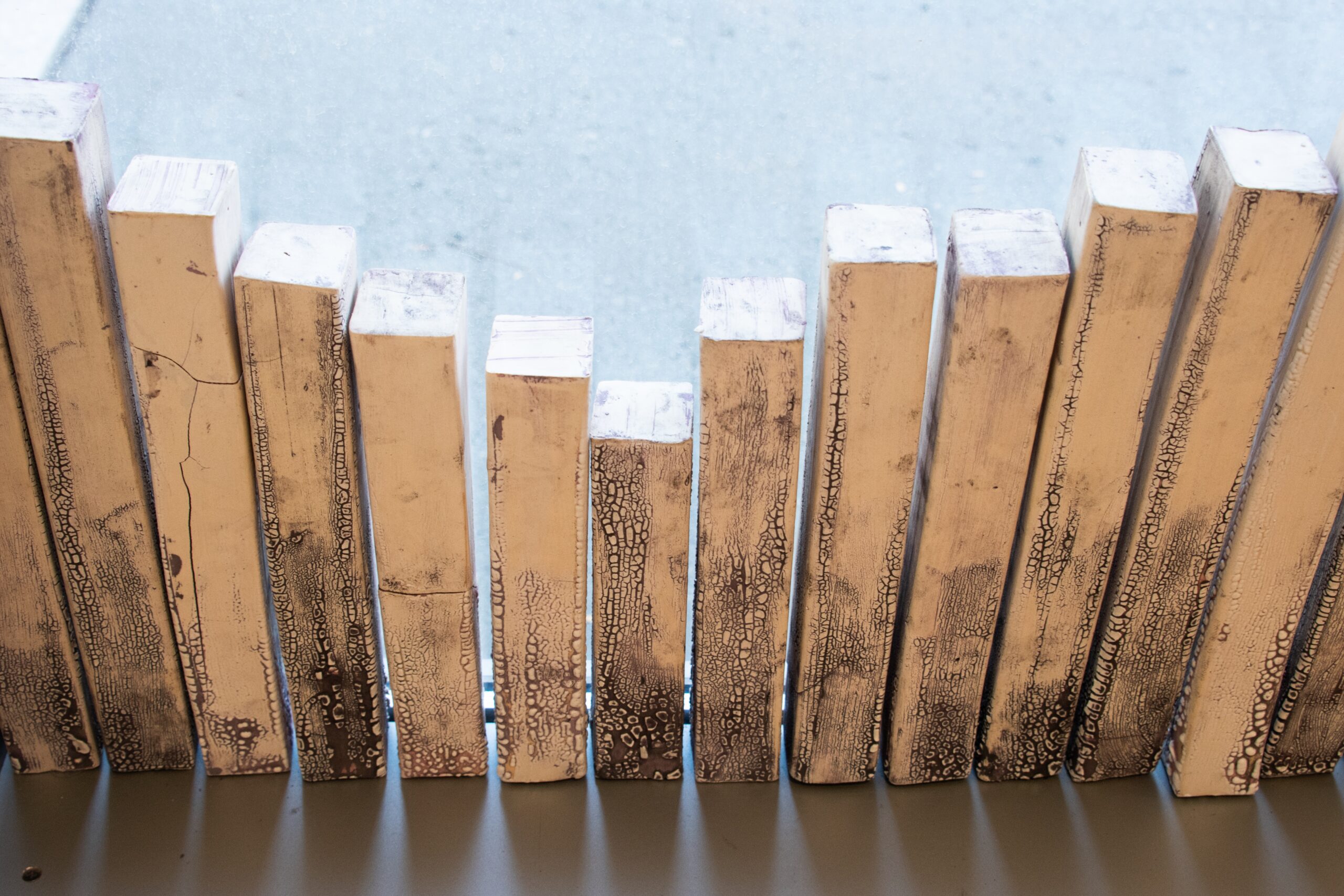 "I made an impractical decision that I do not regret," says Danielle Okelberry who goes by "Dani." The UofU senior who is finishing up her art degree, slowed her graduation considerably by declaring herself a pre-med undergraduate.
Truthfully, there are very few pre-med students at the U who are art majors. All the more unusual, then, that this ceramic artist's most recent sculpture titled "The 28 Day Cycle" is on display in the lobby of the Aline W. Skaggs Biology Building where Okelberry has been busily attending to her life science classes in preparation for acceptance to medical school.
The showing will extend through December 17, end of the fall semester.
The conflation of art and biology started when, as Okelberry puts it, she suffered a "quarter-life crisis" and began traveling widely, especially to China, and doing medical "missions." She recalls in particular being in Mexico and watching the precise movements of a surgeon removing cataracts and thinking to herself, "I want to do that."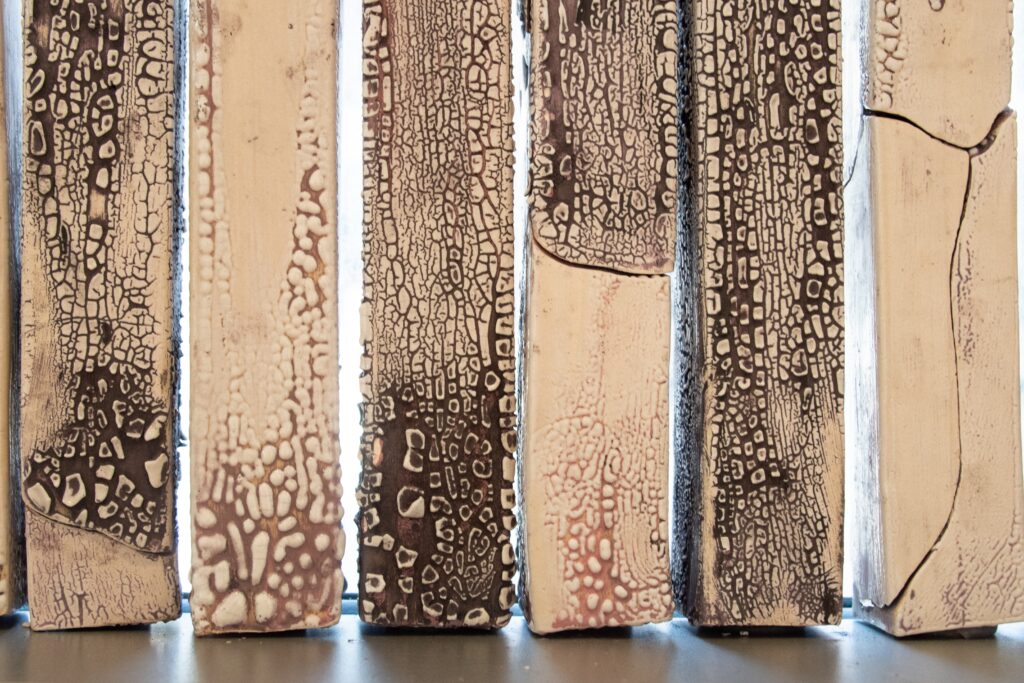 The ceramic sculpture with a textured surface is a three-dimensional bar graph of  the ebb and flow of menstruation, arguably a subject that is talked about sparingly—if at all, socially–and even suffers from a certain level of stigma. Scientists often report using bar graphs, but not three-dimensional ones with a pooled and distressed, crawl-glaze surface that invokes the look of cells under a microscope.
But Okelberry sees her subject as not only a site-specific art work on campus, backed as it is by the lobby's west-facing windows where it reflects shadows in a dynamic delivery, but a metaphorical, social and even political "site" where a meditation on the meanings of reproduction and women's issues are experienced and examined.
"To have this work here in this space is really important," she says. "It is more recognizable here where biology is studied," rather than just a quasi-abstract art project stained with the purplish-hue of potassium permanganate.
The glaze finish and its data-inspired formulation, in addition to the site of its installation, relate this work of art about menstruation back to its biological aspect.
When Okelberry first broached this project idea, she got blank looks in the art department. Why would she want to place her art work among biologists? But, again, it was the location if not its occupants that the artist wanted because it brought together her two interests of pre-med and art. She also knew that the sculpture's debut in biology would inflect her sculpture with meanings and hopefully conversations that transcend the artifact.
"While taking the required [pre-med] science courses side-by-side with my art program, I was fortunate to work with incredible peers and professors from both areas… I have brought these two worlds together with this installation. My hope is that it can inspire conversations about the choices women face when it comes to their bodies every day." In particular while taking biology classes, she realized that the female menstrual cycle, while commonly seen in biology and physiology classes, isn't a common subject of artistic expression in the department that will be awarding her a bachelor's of fine art (BFA) next spring.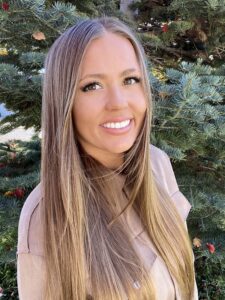 "Of all the imagery I've seen in medicine/biology, what spoke to me most was the the fluctuation of the endometrium." Needless to say, women's bodies and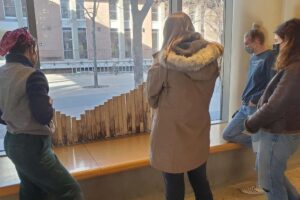 hormone-driving menstruation are fraught with chaos—not just the dynamism of the blood lining thickening followed by the precipitous sloughing (and the potential for pregnancy)—but social and political chaos elaborated through, among other things, sexism, birth control, in-home and in-clinic abortion and sexuality.
All of this informed Okelberry's creation of the bar graph with differing, vertical bar lengths that chart the growth of the endometrium and its sudden falling off every twenty-eight days.
A Draper, Utah native, Okelberry works in wheel-thrown and hand-building clay. And she sees the process of making art in three dimensions similar to envisioning a surgery and treatment plan followed by the actual execution of that surgery. But for now, she wants this installation—equal parts social-confrontation and a visual, tangible elaboration of iridescent and textured surfaces that reflect the afternoon light in the ASB lobby—to stand as both an abstract expression and a statement about what 28 percent of the world's population experiences every month. Concluding her artist's statement about the project is this: "If we are bleeding already, why make us bleed more?"
By David Pace
You can view the sculpture in the ASB lobby flanked by Danielle Okelberry's artist statement and bio November 29–December 17. This project is a collaboration between SBS and the University of Utah's Department of Art & Art History. Read the artist's statement here.