Course Transfer Guidelines
---
The School of Biological Sciences requires students to follow these guidelines regarding transfer courses from another institution.  If you have questions about this process, please reach out to an academic advisor.
Please note:
All responses will be sent to the requestor's UMail address.
It may take up to ONE WEEK (5 business days) for your request to be processed.
Please do not send multiple requests for the same course.
Requests will be processed in the order that they were received.
Courses that appear on Transferology and the In-State Transfer Guide cannot be re-petitioned as other BIOL courses. If you submit a petition regarding these courses, it will not be reviewed.
1
Get your out-of-state transfer(s) started:
The University of Utah provides a Google Workspace account for students, staff and faculty. Log into your gcloud account before submitting your transfer course petition.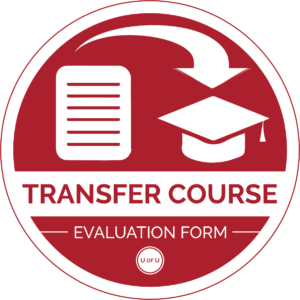 Please note: 2 BIOL lab courses including 3 lab units must be completed at the U of U.
2
Once your request is approved, complete the following:
If you need to request a permission code, complete the form below.
Permission Codes
Forward your transfer approval email to biocode@utah.edu.
Review your degree audit regularly to see if your transfer courses have appeared there.
Once transfer classes show up on your degree audit, email your academic advisor stating that your courses are now on your degree audit and request that the appropriate degree audit exceptions be entered.
3
Petitioning for course transfers from other departments
Course syllabi in mathematics, chemistry and/or physics should be sent to the respective departments to be reviewed.
Once you have received a response from that department, forward the email to your academic advisor and request that a degree audit exception be made.
For general education requirements that aren't showing up on your degree audit, please submit a petition at the link below.