Career coaching is a little bit of hand-holding and a whole lot of at-your-fingertips resources. A little bit of asking the right questions of your client (and asking them at the right time) and the uncanny ability to help someone see how cool they already are.
It's a lot about helping someone find an occupational "fit," not so that they can rest on their laurels in a static world where everything is customized, but as a stop on the continuum of work that is ever-moving and ever-expanding.
Crystal Cory, MA, is that kind of person, and she knows of what she speaks. She was originally an engineering student at Purdue University where she was studying biochemistry before a course in organic chemistry revealed rather awkwardly that her path led in a different direction than she first thought it would.
That she has a STEM  background, however, has come to the fore at the University of Utah, following her own circuitous route landing her in the U's Career & Professional Development Center (CPDC). She is SBS's go-to-professional for bridging your education with the vagaries of the work life.
And the vagaries are many.
An Indiana native, Cory had never been to Utah until she landed her job in the Career Office located on the third floor of the Student Services Building (SSB). A career coach is a professional who guides you during a job search or a career transition, or helps you improve and advance in your current position. They analyze your work and academic situation and learn what your professional goals are. They then work with students to come up with a plan to help you achieve your targets. Considering the holistic reality of job fulfillment, however, you might opt to call an outing this fluid "planned happenstance" rather than career planning.
Central to this work is excavating for the client the skills they've already obtained, either through school or work, and translate them to a new job opportunity. Have you been working at Burger King to get yourself through college? No problem. You've got the skills to enter a new environment whether you know it or not.
Technical knowledge and experience are found in on-the-job settings where training someone how to change out the oil in the fryer is going to happen. But other skill sets–whether they be knowing how to communicate with a customer or a fellow employee or how to de-escalate a situation embedded in conflict–are likely either already developed in you or soon can be.
Perhaps your skill is simply fierce tenacity—hanging in there, and getting back up in the ring after getting knocked about. Cory's message: don't underestimate your skills. And don't underestimate yourself.
"When a student arrives in my office or calls me on the phone, they don't need to have prepared anything," says Cory. "This is a no judgment zone. My time's exclusively for you. The agenda is set by the student."
But what if the agenda is more like a cry from the heart, as in, "I have no idea what I'm doing"? That's okay, too. And Cory will tell you that to your face.
She might ask you to start not with the "what?" but "the why?" The objective is to become more confident in taking your next step toward a gratifying career. Just one step at a time. You're not here to dismantle the seemingly insurmountable wall of job and career. "That wall looks huge because it is, even when you're half way up it."
She is also quick to remind one that expecting to have "a single career your whole life isn't realistic." Most people make many job changes during the course of their life and you may be surprised to learn that folks aren't just changing jobs–they're changing careers: between five and seven times on average.
Asking yourself the why might look like this:
"Why am I drawn to a lab environment? Is it the excitement of unanswered questions? Is it the mice? The lab coat? Or, do I really do well in a highly collaborative environment where people feed off of one another's ideas? Why do I identify with plants over animals in my studies? Why do I get jazzed when people crack an organic chemistry textbook?"
This particular career coach may not understand getting jazzed about carbon-containing compounds, but she can help you home in that enthusiasm towards careers that honor your excitement, regardless of what object that excitement has attached to.
"It has helped," she says of her biology clients, "that I lived in that [STEM] world for a hot minute." Again, there's no judgement here, just a continuing conversation with someone who knows the right questions to ask of you.
And of course, you know—only you know—the right answers.
Anthropologist Joseph Campbell is credited with the phrase, "follow your bliss," and if you talk to Cory very long her bliss comes roaring forth like a lion—or a bear.  She is an avid participant each year in Fat Bear Week, a single elimination tournament in which fans view bears in the wild on webcams and vote for which is fattest as the critters list toward hibernation.
The point isn't that Cory wants to study bears; it's that her bliss for them speaks to a larger area of interest which is conservation. But here's the takeaway: enthusiasm for conservation (including over-indulgent bears eating salmon) doesn't mean an end game of one job or one career. It can mean a job in policy, in fieldwork or in education… or even in career coaching. There's no one right answer.
Cory's bliss clearly extends from bears to helping others figure out their own bliss, their skill set and their next steps towards a gratifying career. And she is available for free at the University of Utah where she works mostly with science and STEM students (excluding engineering) and veterans.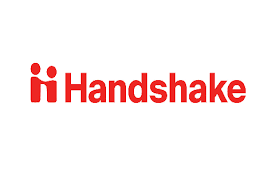 You can expect to be asked to sign in to Handshake, the one-stop shop platform for career development where, at the U, no less than 15,500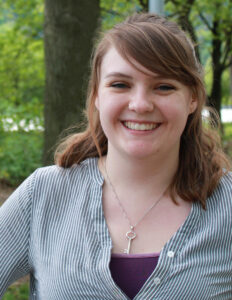 high-quality jobs have been approved for your consideration using hand-picked criteria. In addition to job openings, Handshake provides events and other resources. (You can set up an appointment with Crystal Cory here.)
It's been a long journey in some ways from flat Indiana where, as Cory says, "You can watch your dog run away for three days," through the intriguingly named Slippery Rock University for her Master's in Student Affairs and then to mountainous Utah. But in other ways it's been short but decidedly exhilarating for her. She loves meeting with students either in person or virtually. For those who might be a bit busy for an appointment, the CPDC also has a Career Studio in SSB 350 for drop in help on career-related topics.
Following her undergraduate degree at Purdue she earned her Master's in Student Affairs in Higher Education and since then has found her home in Salt Lake City where she can help you draft (or re-draft) a resume, find an internship, or host you at a meet-and-greet with employers looking to hire. She can also help you apply to graduate school if you want to pursue another degree. In short, she can help with general job searching, interviewing, salary negotiation . . . basically anything related to careers.
And if you're a graduate student, Cory can direct you to a coach who specializes in the post-graduate-student blues. As with undergraduates, it's never too late to ask "Why?"
Let Crystal Cory help you.
5/23/2022 UPDATE: Please check with the links below for Crystal Cory's replacement. 
By David Pace
Visit Crystal and her coach colleagues at the UofU's Career and Professional Development Website here. Watch a video on how Handshake works here.