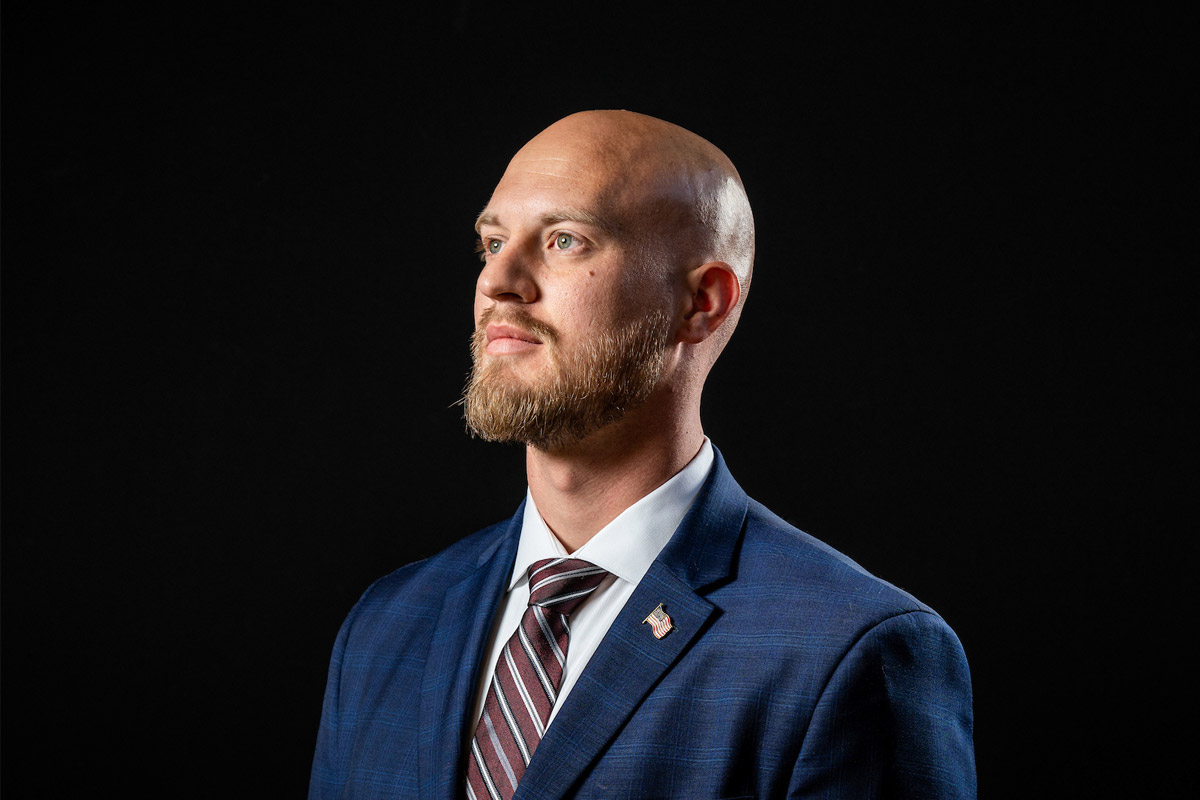 The Student Veteran of the Year (SVOY) award is open for nominations.
The award is presented annually by the University of Utah Veterans Support Center (VSC) to a U.S. Armed Forces service member or veteran enrolled at the university. The award recognizes academic achievement, community/campus service, and military accomplishments. A committee of peers selects the awardee, with significant emphasis placed on community/campus service.  The honor consists of a $500 scholarship, an engraved medallion, and the SVOY's name engraved on a plaque displayed in the VSC. Nominations may be submitted by students, faculty, and staff and must be received by 11:59 PM MDT on October 20, 2021. In 2018/19 SBS's Craig L. Hanson was the recipient. You can read more about Craig below.
 2018-19 Student Veteran of the Year, SBS's Craig L. Hanson 

"When I first came to the U, I didn't have much discipline or respect for myself or others. I was fortunate enough to find both in the Navy andMarine Corps. After a year I realized I wasn't quite ready for college even though I was a pretty good student in high school. So, I left.
I was looking for a challenge and became a certified commercial diver and a diver medic. I didn't know then the combination of deep water and medicine was foreshadowing my future and what would make me who I am today. I joined the Navy in 2010 and became a corpsman. I really engaged with my training and became a distinguished graduate from both the Navy Hospital Corps School in Great Lakes, Illinois, and Field Medical Service School at Camp Pendleton, California.
In 2011, I was assigned to Golf Company "Joker" Second Platoon in 2nd Battalion, 4th Marine Regiment–The Magnificent Bastards–at Camp Pendleton. A month later I was deployed to Afghanistan. My Marines—who I miss all the time—called me "Doc." We were assigned to an isolated Forward Operating Base in a notoriously dangerous area of operation in the mountainous area of the Helmand Province.
My platoon and I conducted hundreds of dismounted patrols over a seven-month period. In that time, I treated both wounded Marines and countless local nationals-even saving the life of a wounded enemy combatant. And I had the privilege of teaching first aid techniques to Afghan soldiers. Passing my knowledge on to them.
After my two-and-a-half-year tour I realized I had found my passion for medicine. I returned to the U in 2015 and majored in biology with minor in chemistry. Because of my background in emergency medicine, I've looked largely at continuing that training and would like to become a trauma surgeon. That being said, I know enough about medicine to know that I've barely grazed the surface and am still keeping an open mind about the exact course in medicine I'll be taking."
by Janelle Hanson
This story originally appeared in 2018 in @theU.
Eligibility
Nominees must meet all of the criteria below:
The nominee has served or serves in the U.S. Army, Marine Corps, Navy, Air Force, Coast Guard, Space Force, or National Guard, on active duty or the reserves, for any length of time, and in any location, and has not been separated from the military with a dishonorable discharge. If selected, the nominee will be required to provide documentation verifying eligibility under these criteria.
The nominee is currently enrolled full-time in good standing at the University of Utah.
The nominee has earned a cumulative GPA of 3.0 or greater at the U.
The nominee has earned a minimum of 30 undergraduate credit hours or 18 graduate credit hours from the University of Utah.
Nominations must be received no later than 11:59 PM MDT on October 20, 2021.
Direct all questions to the Veterans Support Center here or by phone at (801) 587-7722.