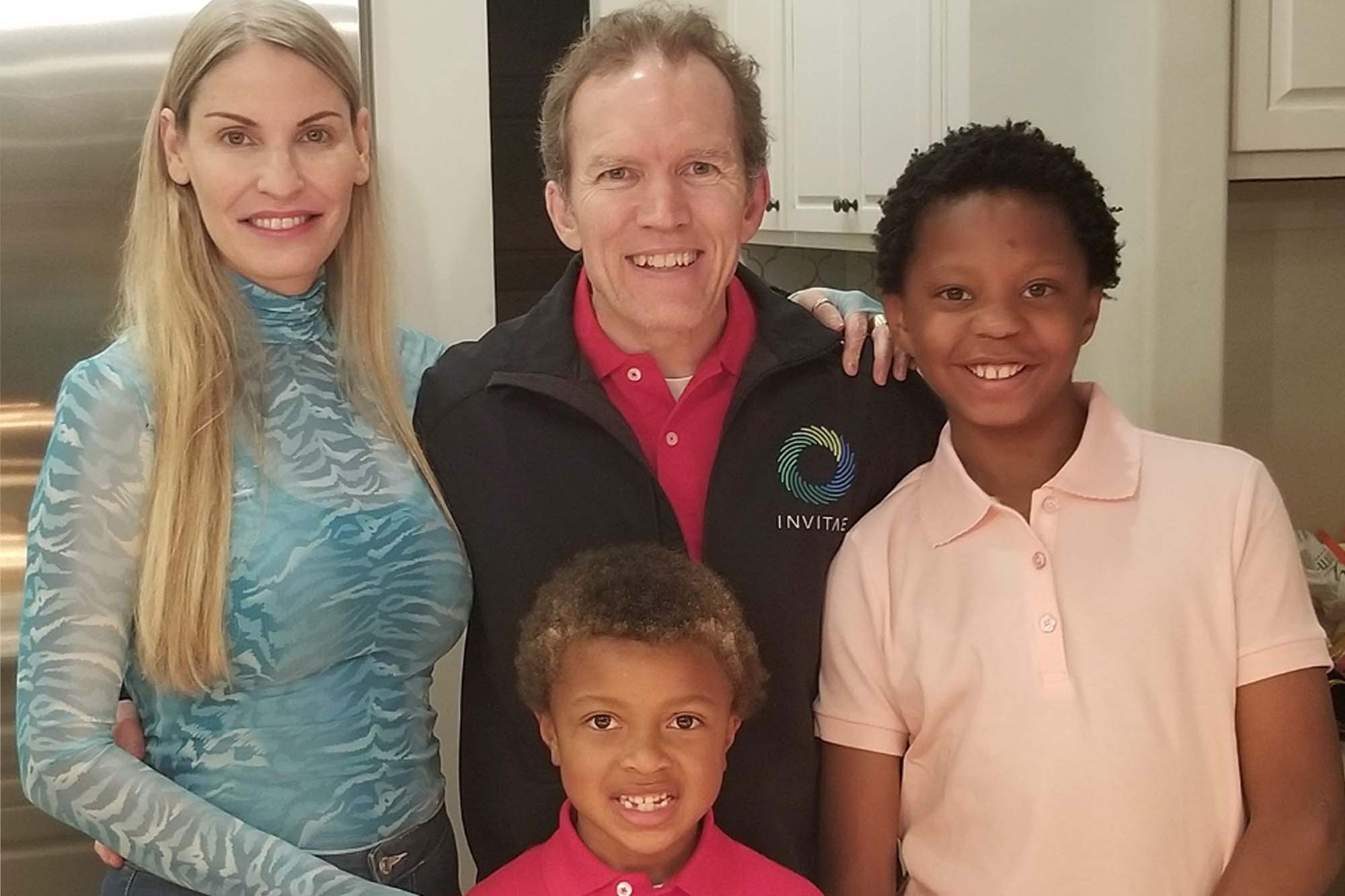 "I anticipate the vaccine strategy for COVID-19, supported by the tremendous advances in vaccine technology and development made in the past 3 years, transitioning to something akin to what is done for influenza A/B, with annual development of a vaccine tailored to the strain(s) of COVID-19 predicted to predominate in a particular 'COVID season.'"
Banner Photo: The Esplin Family, l to r,
Miki, Ed, Liron and Ori
This is the hopeful tenor of Ed Esplin, PhD, MD (BS'95) Clinical Geneticist, Medical Officer at Invitae. A bio-tech startup in San Francisco, California working to bring comprehensive genetic information into mainstream medicine to improve healthcare for billions of people.
It's a hope that many of us long for in this the beginning of the third year of the coronavirus pandemic. That Esplin has the bonafides of advanced degrees (MD and PhD in Genetics from the University of Texas Southwestern) provides a credibility and expertise that Americans could use in this age of dis- and misinformation.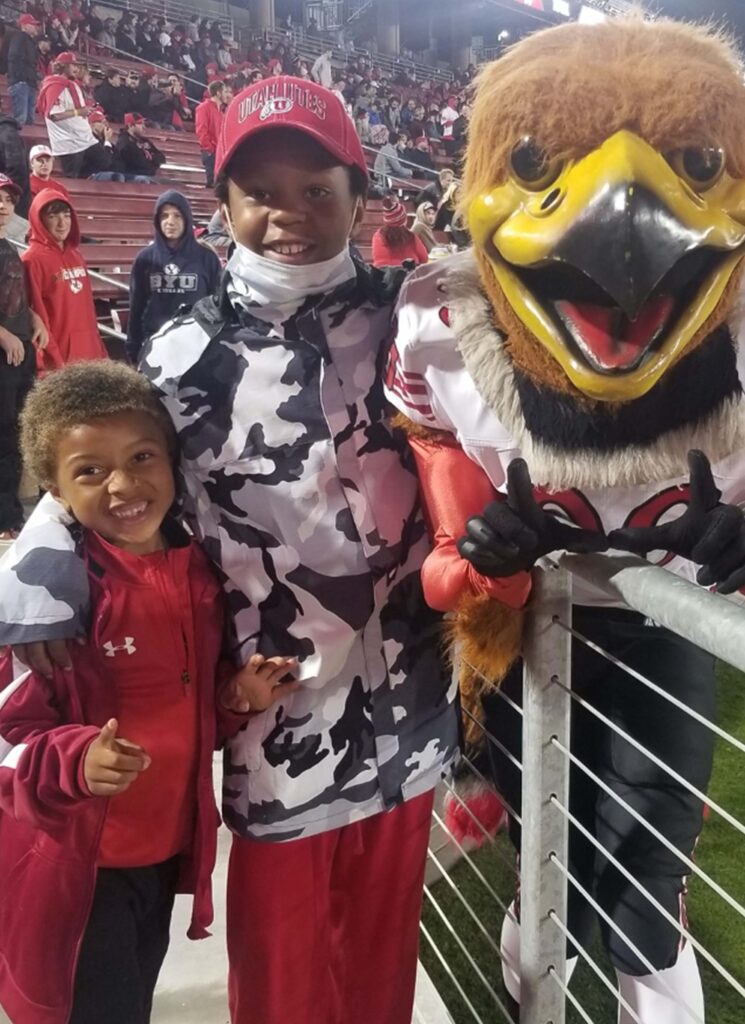 Esplin's experience isn't just based on degrees.  The Salt Lake City native was trained in the  National Institutes of Health funded Medical Scientist Training Program (MSTP) with a full-ride scholarship followed by an internal medicine residency at UT Southwestern, a clinical genetics fellowship at Stanford followed by post-doctoral research in the Department of Genetics as a Tashia and John Morgridge Endowed Fellow in Pediatric Translational Medicine.
Why the University of Utah for his Bachelors in Biology with a minor in German? As a second generation Utah graduate, he was inspired by his father, Dr. D. Glen Esplin, a veterinary pathologist who completed his PhD in Experiment Pathology at the University of Utah. I had a "[d]esire for high-quality biomedical training, reputation for successfully preparing graduates for acceptance to medical school, world renowned reputation for genetic research with which I was fortunate to engage as an undergraduate in the lab of Dr. William Carroll." Carroll gave Esplin the opportunity to work in his lab at the Eccles Institute of Genetics. There they studied the genetics of pediatric neuroblastoma.
"He is a brilliant and patient mentor, helping me to publish my first paper in the University of Utah Journal of Undergraduate Research," says Esplin of Carroll. It was that experience which solidified his passion for genetic research and his determination to pursue MD/PhD training to become a physician-scientist like his mentor.
Becoming a physician-scientist and clinical geneticist is a unique combination of expertise and experience, but it was exactly that synthesis which cracked open an opportunity for Esplin to join a start-up company, "pre-IPO" (Initial Public Offering). Invitae, "now the leader in genetic information," says Esplin, was that company.
In his current career trajectory, Esplin has a chance to reflect on his past at the University of Utah's School of Biological Sciences and what the future might hold on the broader stage of genetic testing and world health. He reports that in the broad field of biological sciences, and in genetics and genomics specifically, advances are accelerating and opportunities are growing exponentially for motivated, thoughtful physicians and scientists. "Stick to your goals," is his advice to students, "even in times of uncertainty. My eventual path was more circuitous than I had planned, but I never lost sight of my goals and was able to take advantage of opportunities I'd never anticipated encountering."
More reassurance for students faced with navigating a pandemic which by definition is totalizing, disrupting family, health, work and long-term academic goals. Undergraduates as well as graduate students would do well to find the kind professional/career mentor as Esplin did, a mentor who is not only technically proficient but who can place the ambitions of budding researchers and scholars into a broader life context.
For Esplin that context within which his occupation rests includes a number of other avocations. He enjoys playing trumpet, piano, singing and all of the outdoor sports Utah had to offer him before he moved with his wife, Miki, and their sons to California in 2011. One of his favorite memories of the U had nothing to do with science and medicine:  singing in an a 'Capella quartet as part of Sigma Gamma Chi during Songfest, a 100-plus-year-old homecoming tradition where student song-and-dance routines are judged for creativity and presentation.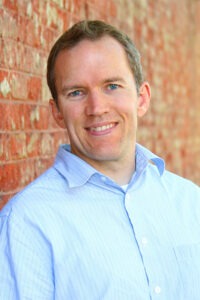 "One of my best friends from the U is Hugo Vera," he explains, "who graduated from the U School of Music in Vocal Performance, and is now a professional tenor who's performed with the Metropolitan Opera."
Songfest and other close-contact activities have been put on ice the last two years because of Covid-19, but Esplin's reminiscences speak to the broader approach he advises all students to adopt during this unprecedented time of mask-wearing, social distancing, vaccine development and deployment, not to mention political and social rancor.
"It's made me appreciate a number of things a lot more," he says of the disruption of our collective lives, "including the joy of spending time with my family, having spent more time with them while working from home." He continues: "Also, it has underscored our reliance on, and the importance of, advances in biological sciences to provide us the tools necessary to lift us out of the pandemic."
This is where Ed Esplin and others have found solace in this uncertain world of illness, isolation, panic and death, especially when co-morbidities in patients are present. His is a unique combination of the "how" of medical research and the "why" for the "how" which is rooted in human values and the day-to-day practice of hope for the future.
by David Pace