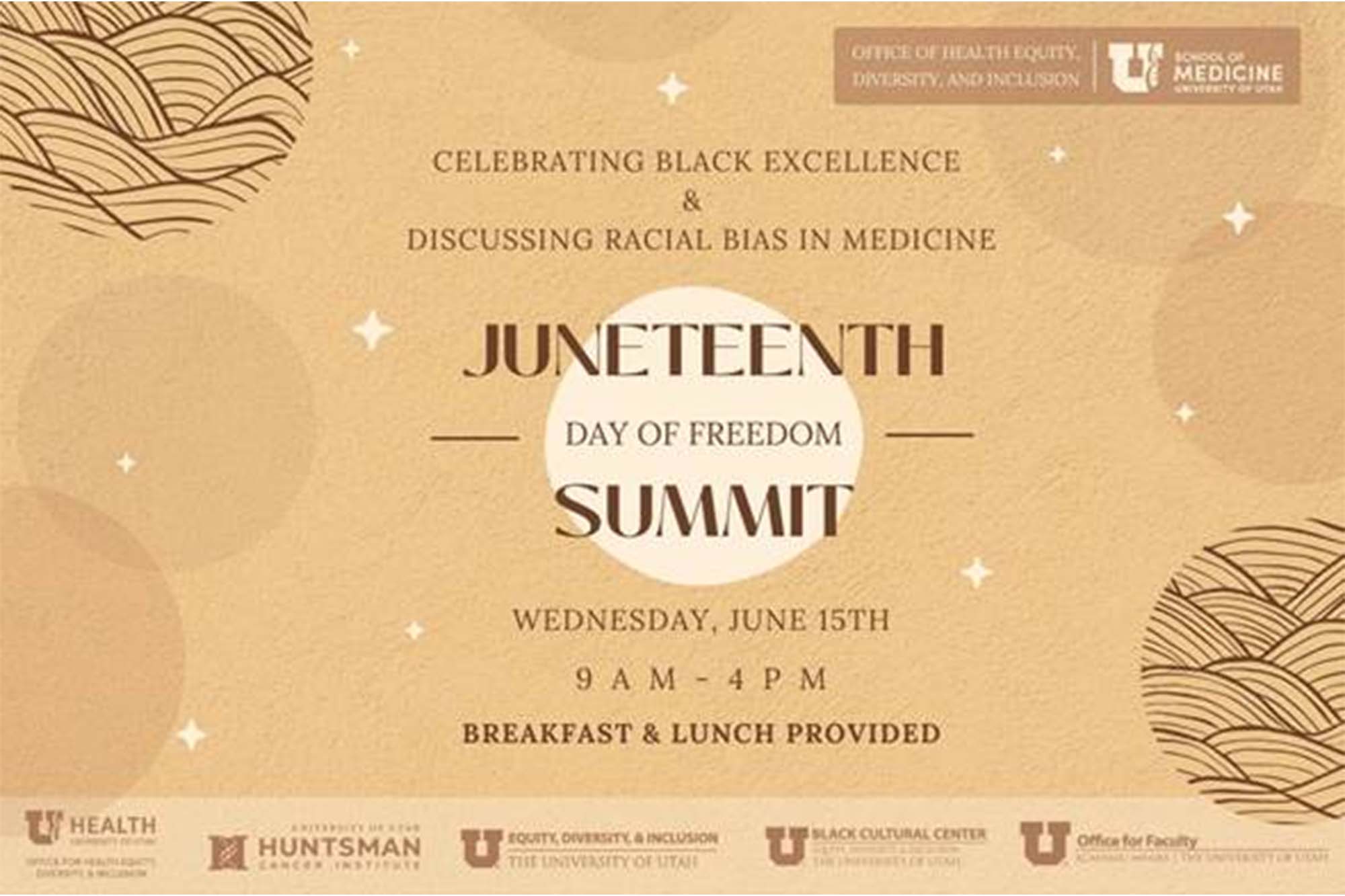 Juneteenth is a nationally recognized holiday that commemorates the ending of slavery in the U.S. Today, it is celebrated to recognize Black excellence, achievement, education, and freedom. June 15 is Juneteenth Day of Freedom Summit at the U.
The School of Medicine Office of Health Equity, Diversity, and Inclusion (OHEDI), in collaboration with the University of Utah Health, Equity,
Diversity and Inclusion (UHEDI); Huntsman Cancer Institute (HCI); the Black Cultural Center (BCC); and Equity, Diversity, and Inclusion (EDI) are hosting a Juneteenth Summit and would like you to be a part of the celebration!
Register to join us for hybrid activities, including an in-person lunch, and conversations with experts and community leaders on celebrating Black excellence and racial bias in medicine, healthcare, and research.
Registration is also required for participants planning to attend in person.
Agenda
---
9:00 – 9:50 a.m: Networking & Breakfast
10:00 – 10:30 a.m: Welcome & Committee Introduction
10:35 – 10:55 a.m: Poetry Reading
10:00 – 11:55 a.m: The Power of Intentional Mentorship
12:00 – 1:00 p.m: Keynote Sepaker & Lunch

History of Juneteenth: Ms. Betty Sawyer

1:00 – 1:15 p.m: Poetry Reading

"You've Got to be Carefully Taught" from South Pacific

1:30 – 2:30 p.m: Celebrating Black Excellence in Utah Panel
2:45 – 3:45 p.m: Racial Bias in Health, Medicine & Research Panel
3:45 – 4:00 p.m: Closing Remarks