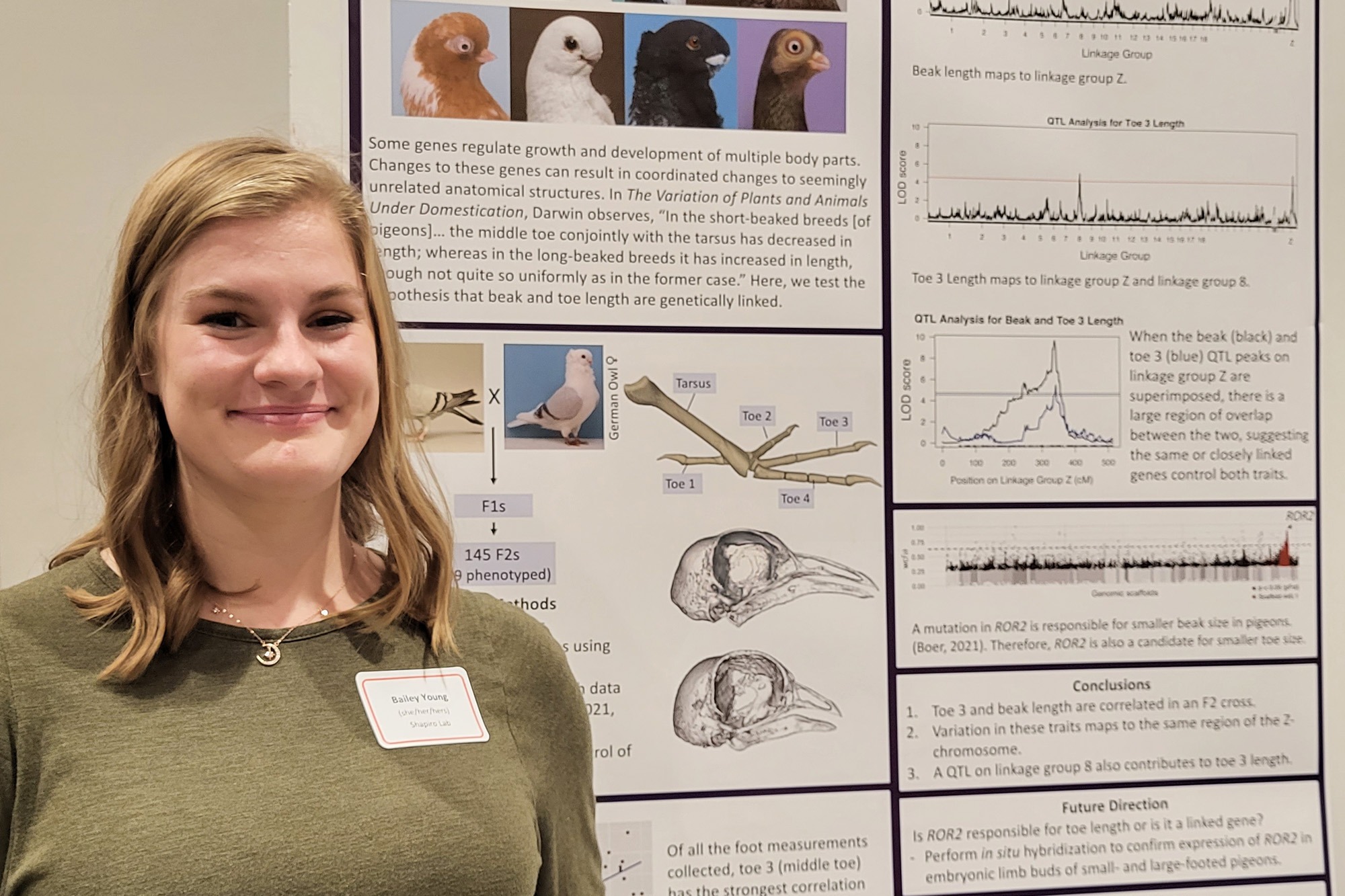 "A lot of people assume that pigeons are garbage birds and look at them with disdain," says Bailey Young.
"However, pigeons are actually really cool! There are over 300 different breeds with dramatically different phenotypic traits including feather color, eye color, flying patterns, beak and foot size and more."
The biology senior, ready to graduate this spring, doesn't say whether she became this entranced by pigeons before or after she landed an undergraduate research position in the Michael Shapiro lab, but no matter. "I've always loved science, but when I took a freshman biology class at the U, I loved the genetics unit more than any other. I wanted to understand the ways that genetics is used in research, and the Shapiro lab fit the bill perfectly. I've also always thought birds were cool, so getting to be around birds AND learn about them and their genes? It was a perfect fit."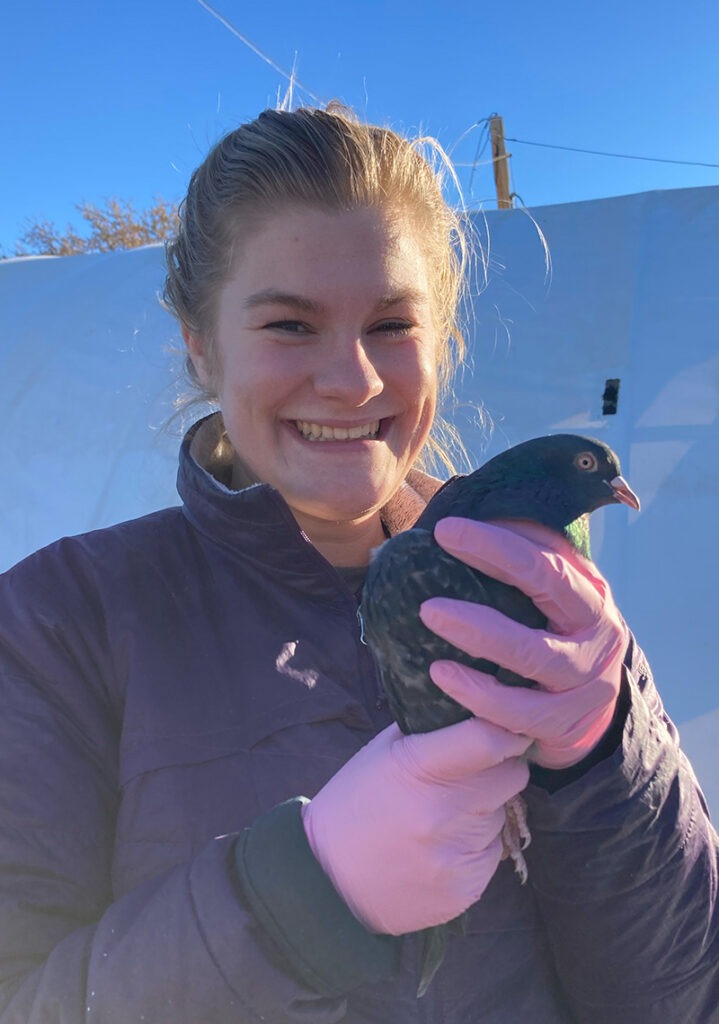 Young cut her research teeth at a Science Research Initiative teaching lab with Drs. Josh Steffens and Heather Briggs before stepping into the Shapiro lab where, currently, she and her team are doing research sparked by the findings of Charles Darwin. The 19th century evolutionary biologist noticed that pigeon breeds with short beaks tended to have short toes as well. Of course, Darwin didn't have access to today's molecular biology techniques to test how this correlation might occur at the genetic level.
The Shapiro lab identified that the ROR2 gene was responsible for small beaks, details of which were published in Current Biology last year. Now, Young and her colleagues are testing whether or not the same gene controls toe size. The gene in question is associated with a condition in humans called Robinow Syndrome, a very rare disorder that affects development of the skeleton and other body parts."This is exactly the kind of condition that Bailey would deal with in her upcoming career," says Dr. Shapiro who holds the James Talmage Endowed Chair in Biology.
He's referring to Young's ambition, as she's described it, to be be trained as a genetic counselor following graduation this spring. As a health professional who investigates individuals and families affected by or at risk of genetic disorders, she will help them understand and adapt to the medical, psychological and familial implications of genetic contributions to disease.
A necessary field for the implementation of genomic medicine, the work of a genetic counselor integrates the following: interpretation of family and medical histories to assess the chance of disease occurrence or recurrence, education about inheritance, testing, management, prevention, resources and finally, counseling to promote informed choices, adaptation to the risk or condition and support in reaching out to relatives that are also at risk.
Motivation to be a counselor might stem from Young's personal hero, her mother. "She is strong, operates from a place of empathy and seeks to build people up," Young says. Professionally, the honors student with a minor in chemistry, has a hero in the religious artist Marshall McDonald who has arranged music for various artists including "O Come, O Come, Emmanuel" with Steven Sharp Nelson as performed in The Piano Guys. He's a "brilliant musician …," she says, who "doesn't allow his brilliance to stop him from being an amazing mentor. He is always looking for ways to encourage people to grow and find their voice."
Young has managed to secure more than one scholarship to help her advance her academic career, netting a Presidential Scholarship, Biology Research Scholars Award, UROP, National Merit Scholarship, Regents Scholarship, and a Keller Law Offices Academic Scholarship. She was also on hand at SBS's annual Science Retreat in October where she was selected to present her findings on a poster with several other esteemed undergraduate researchers (banner photo above).
This isn't to say she's always holed up in the classroom or lab. A native of Fairbanks, Alaska she enjoys mountain biking, crocheting, listening to and playing music on the piano. "I also really love aspens." And on campus she keeps busy as a member of th baking club (yes, there is a baking club at the U) and as chair of the Belonging Committee at the U's LDS Institute of Religion where she is also a member of the "Institute Singers."
Bailey Young can look back at the last few years at the U with gratification, even though at times, during the pandemic it was rough. "The pandemic made it really difficult for me to find a lab where I could do research. I came extremely close to giving up after several attempts [when] joining a lab fell through. It was only when I reached out for help that I was able to succeed. It's really important to find mentors that you can trust, and I would encourage others to figure out who that is for them and [to] ask lots of questions . . ." including about pigeons.
By David Pace

You can read more about the mutation in the ROR2 gene linked to pigeon beak size reduction here.
For more on the Science Research Initiative for undergraduates in the College of Science, click here.