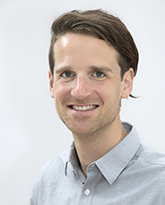 Back to Faculty
Research Statement
---
Our lab studies how animals grow and maintain themselves in a dynamic environment. We generate genetic tools for manipulating genomes that will lead to a quantitative understanding of vertebrate development, organ homeostasis, and responses to infection, injury, and ecological pressures.
Research Interests
---
General Interests
Selected Publications
---
Takasugi PR*, Wang S*, Truong KT*, Drage EP, Kanishka SN, Higbee MA, Bamidele N, Ojelabi O, Sontheimer EJ, Gagnon JA. Orthogonal CRISPR-Cas tools for genome editing, inhibition, and CRISPR recording in zebrafish embryos. Genetics, 2021
Balla KM, Rice MC, Gagnon JA, Elde NC. Linking virus discovery to immune responses visualized during zebrafish infections. Current Biology, 2020.
Raj B, Wagner DW, McKenna A, Pandey S, Klein AM, Shendure J, Gagnon JA*, Schier AF*. Simultaneous single-cell profiling of lineages and cell types in the vertebrate brain by scGESTALT. Nature Biotechnology, 2018.
Gagnon JA, Obbad K, Schier AF. The primary role of zebrafish nanog is in extraembryonic tissue. Development, 2018.
McKenna A*, Findlay G*, Gagnon JA*, Horwitz M, Schier AF, Shendure J. Whole organism lineage tracing by combinatorial and cumulative genome editing. Science, 2016.