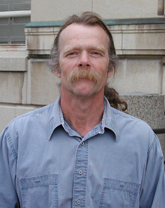 Back to Faculty
Eric Rickart
Adjunct Associate Professor of Biology and Curator of Vertebrates, Utah Museum of Natural History
---
Office/Building: GTB 304
Phone: 801-581-6927
Email: rickart@umnh.utah.edu

Research Statement
---
My research on mammals embraces a variety of topics in biogeography, ecology, systematics, and conservation, and involves both field work and use of museum archival resources (specimens and associated field data from research collections). In the broadest sense, it involves questions surrounding the origin, maintenance, and conservation of biological diversity. I have ongoing projects in two regions, the oceanic islands of the Philippines and the habitat 'islands' on the interior mountain ranges of the Great Basin. Most of my work involves interpreting patterns of diversity and faunal dynamics at different spatial and temporal scales. The most recent project uses historical museum records together with field resurveys to investigate drivers of change in mammal communities of the Great Basin.
Specific Interests
Climate change and faunal change in the Great Basin
Disturbance ecology of mammals
Patterns of diversity across habitat gradients
Biogeography and systematics of mammals
Habitat selection and movement patterns of ungulates
Selected Publications
---
Rickart, E. A. 2001. Elevational diversity gradients, biogeography, and the structure of montane mammal communities in the intermountain region of North America. Global Ecology and Biogeography 10:77-100.
Rickart, E. A., L. R. Heaney, S. M. Goodman, and S. Jansa. 2005. Review of the Philippine genera Chrotomys and Celaenomys (Muridae) and description of a new species. Journal of Mammalogy 86:415-428.
Rickart, E. A., D. S. Balete, and L. R. Heaney. 2007. Habitat disturbance and the ecology of small mammals in the Philippines. Journal of Environmental Science and Management 10:34-41.
Rickart, E. A., S. L. Robson, and L. R. Heaney. 2008. Mammals of Great Basin National Park, Nevada: comparative field surveys and patterns of faunal change. Monographs of the Western North American Naturalist 4:77-114.
Balete, D. S., L. R. Heaney, M. J. Veluz, and E. A. Rickart. 2009. The non-volant mammals of Mount Tapulao, Zambales Province, Luzon. Mammalian Biology 74:456-466.
Heaney, L. R., D. S. Balete, E. A. Rickart, M. J. Veluz, and S. Jansa. 2009. A new genus and species of small tree mouse (Rodentia, Muridae) related to the Philippine giant cloud rats. Bulletin of the American Museum of Natural History 582:205-229.