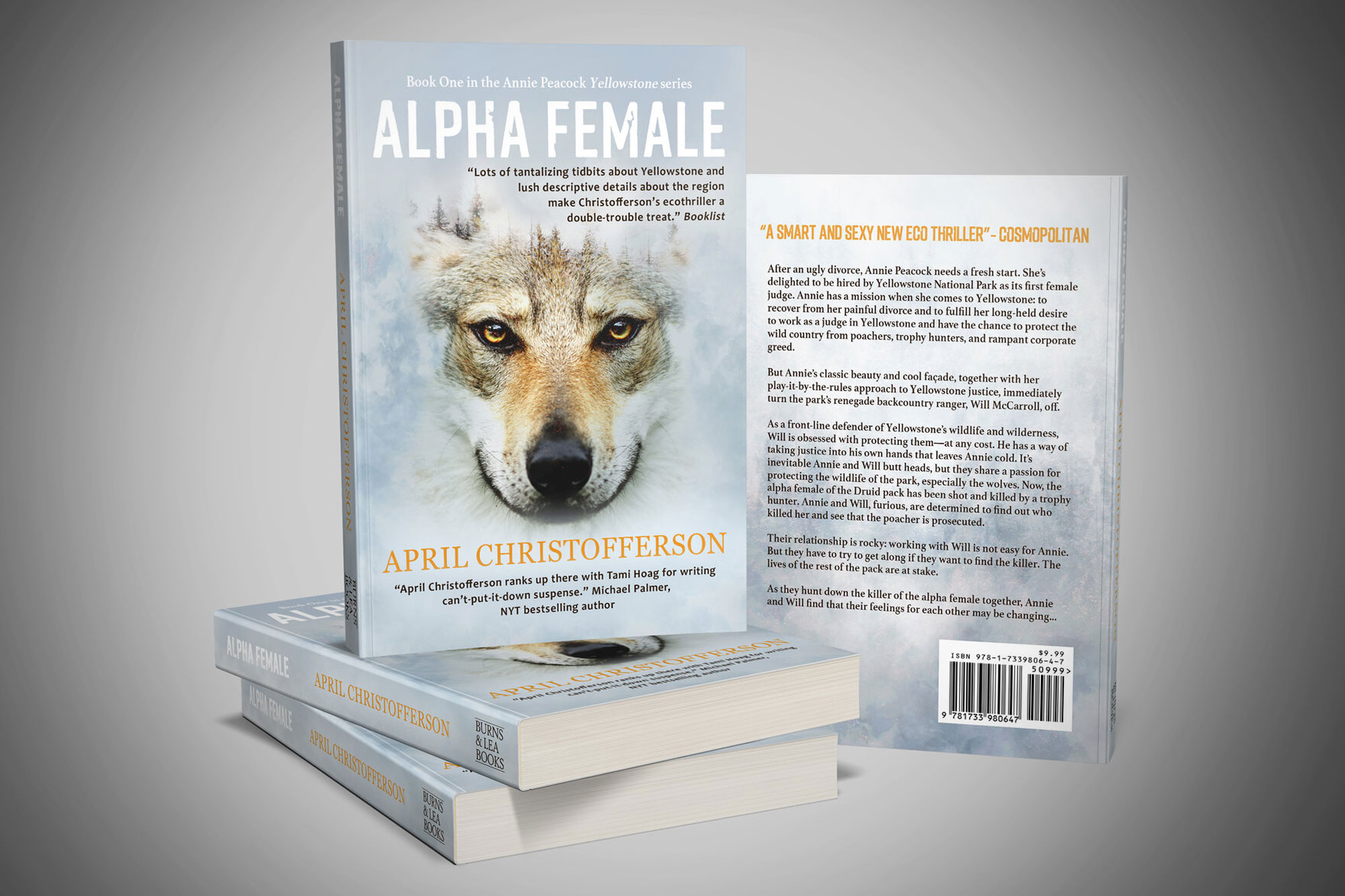 "I love the process of writing," April Christofferson, BS'73, says in a 2007 U profile, "but I write because I'm trying to make a difference."
The difference this Illinois native is talking about includes many of the most complex and conflicted issues of her adopted home in the American West, including wildlife and public lands management, tribal rights, and development. Most recently her passion as a writer has turned to the issue of more than 6,000 missing and endangered indigenous women in the country, many of them in the West.
This year, the reissue of the first two books of her Judge Annie Peacock Series, Alpha Female and Trapped, by Burns & Lea Books—along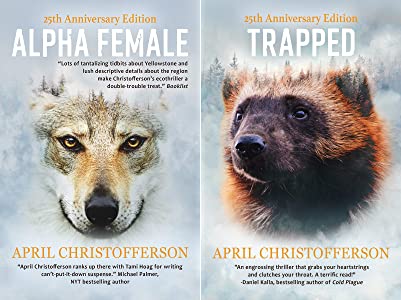 with its shopping of them by publisher/agent Story Merchant for a television miniseries based on the characters' adventures in Yellowstone National Park and beyond—speak to the enduring interest of her literary creations, characterized by deep-dive storytelling that started more than a quarter-century ago.
Growing up in Chicago, Christofferson came to love the West during summers visiting Yellowstone and her grandfather's ranch in Wyoming, where both parents had been raised, and later her paternal grandparents' homes in Salt Lake City and Richmond, Utah. But the road she traveled to become a successful writer is a long and winding story in itself.
In many ways, it starts with Christofferson's maternal grandfather, Floyd "Doc" Carroll, a rodeo champion and Wyoming state veterinarian who was inducted into the National Cowboy & Western Heritage Museum's Hall of Great Westerners in 1998. He was a stunt double for the famous movie cowboy. "My grandpa was such an influence," says Christofferson. "I knew from when I was a little girl that I was going to live out West and be a vet."
After receiving her undergraduate degree in biology from the U, Christofferson began a veterinary medicine program at the University of Illinois in Champaign. But after her first year, she realized she truly wanted to be back West.
"Throughout college, I worked at an animal hospital, but I was always upset—they would try not to tell me if someone was bringing in an animal to be euthanized, because I'd do anything I could to persuade them not to" if treatment were at all possible, she recounts in the alumni story by Marcia C. Dibble. "I realized I wasn't really emotionally cut out to be a vet."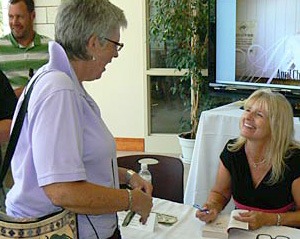 Christofferson and her husband, Steve Leach–also a Utah graduate, BS'76, communication–quickly relocated to Coeur d'Alene, where April focused her love of animals on rescuing those in need. She began a series of odd jobs waitressing, loading UPS trucks, and working as a pharmaceutical rep, while determining what else she could channel her passion into next.
A friend began nudging her toward romance writing, telling her anecdotes about others who had made the transition from completely unrelated careers.
"I thought, I don't have a creative bone in my body, but I had just turned 40, so I sat down and wrote a scene about it—and I just got hooked that day."
It wasn't a straight line between getting "hooked" on writing and publishing her first novel. Inspired by her oldest sister, Christofferson attended law school at nearby Gonzaga University in Spokane, where she graduated with a JD in 1983, followed by a stint as counsel at the Seattle-based entertainment company Miramar. But she continued to write, and for her first book, After the Dance, set in the entertainment industry with which she was then intimately familiar, the underlying issue was that of a family dealing with the death of a son from AIDS.
After the novel's release by a small publisher in 1994, Christofferson swiftly got an agent and quit Miramar to write full time. Her second book, Edgewater, introduced more thriller elements into what was essentially a romantic narrative, with a plot involving a heavily armed northern Idaho militia. After the release of her second book, she promptly signed a book deal with national publisher Forge Books.
But the impulse for biology was always in Christofferson's peripheral vision. Just as she was finishing Edgewater, she was contacted about a short-term gig helping a biotechnology company with its contracts and other business agreements. "I had really just started writing full time, but I thought, biotech would be such a great area to get experience in; it could provide such interesting background." Working in that environment did indeed provide new fodder and depth for her next three novels, The Protocol, Clinical Trial, and Patent to Kill, all medical thrillers favorably compared by reviewers to the work of Michael Crichton and Robin Cook.
She centered the plots of the second and third of these thrillers around the abuse of indigenous peoples by unscrupulous westerners, a theme first introduced into her work in Edgewater. Then for her next book, she focused the action around another issue she had come to see as an inexcusable abuse of power: the slaughter of bison that wander outside the boundaries of Yellowstone.
Following the publication of Buffalo Medicine, she started getting gratifying feedback that helped her see that her work was making that difference she had always hoped it would. She got an email one day from a woman "telling me she'd made a donation to the Buffalo Field Campaign," a nonprofit organization that works to protect the Yellowstone herds. "Most people didn't know buffalo were being slaughtered, didn't know about the issue with brucellosis," a disease that can cause spontaneous abortions in bison and cattle, she explains.
Alpha Female, the first in the series now being shopped for television, revolves around poaching (in this case, of wolves) and addresses the threat to national parks from drilling. In addition to using her writing as a vehicle for educating readers, Christofferson currently devotes time to Footloose Montana, a grassroots nonprofit she helped found, which is dedicated to protecting all wildlife, including predator species. She presently serves on the advisory board.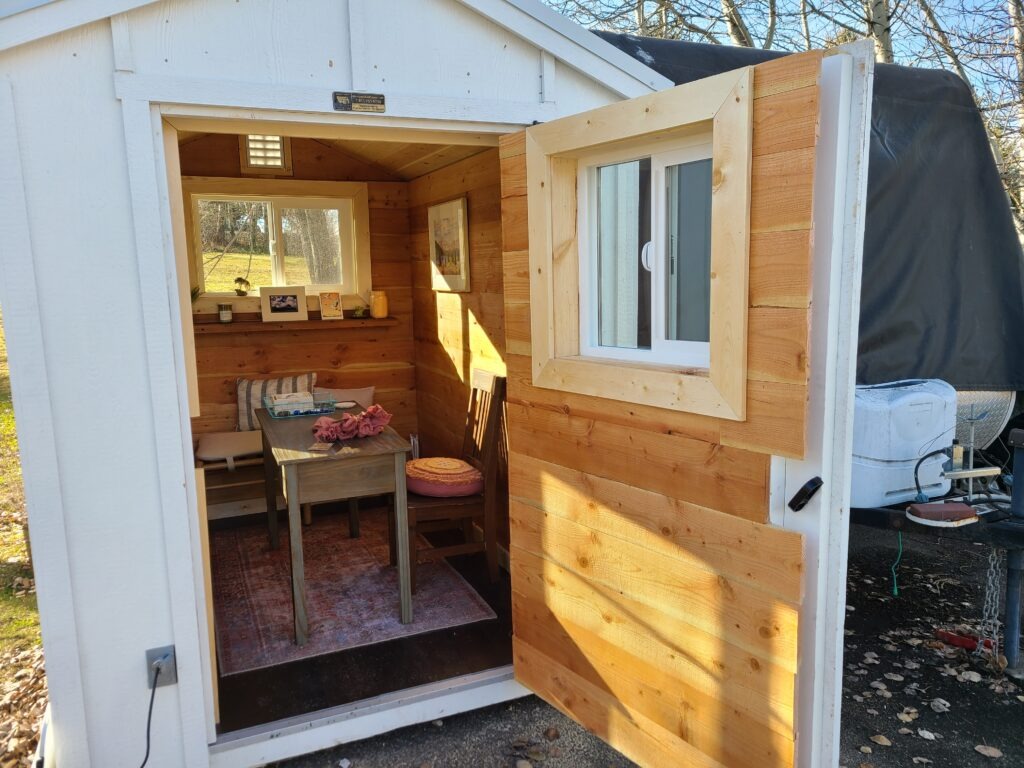 Now a resident of Bozeman, Montana, where her son  and  one of her two granddaughters live, Christofferson has a full life.  It includes   regular visits to the Blackfeet Reservation, where her daughter and other granddaughter live,  writing daily in a small but cozy outbuilding, hanging out with her kids/grand daughters and husband, and, of course, entertaining a herd of furry friends, currently featuring five cats and four dogs, including an "all heart" black lab. Always, there are animals nearby, a tribute to her original impulse to be a veterinarian, now turned to animal rescue with her husband, the executive director of an animal shelter in the town of Livingston, north of Yellowstone in the Absaroka Mountains.
Christofferson's most recent book Grizzly Justice is about a recently fired ranger who disappears into the backcountry, hell-bent on saving a wounded grizzly bear whose fate is all but certain: euthanasia. Her current project Wolf Killer is more than timely; it feels ripped from the headlines after Montana Governor Greg Gianforte was reported to have trapped and killed a collared Yellowstone wolf who had wandered 10 miles out of the protected space of the park. (Gianforte was given a written warning for failing to take the required trapping course).
Even though she had started drafting the manuscript before the incident, the wolf, who was named "Max," became a cause celebre. The issue of wolf hunting in Montana and the American West is classic Christofferson fodder for the kinds of stories she excels at rendering.
Generously, she attributes the beginning of those stories in part to her undergraduate years in Salt Lake City. "I'm a big fan of the University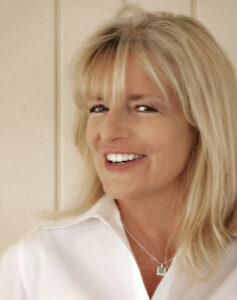 of Utah," says Christofferson, recalling the extra semester she spent after graduation working on the University Health campus, and her senior project in biology, when she had been studying the molting of snakes.
"I was obsessed with snakes," she says. "I had 20 of them [Coluber constrictor foxii, commonly known as "blue racers"] in an aquarium in the greenhouse. I would go up there, weigh them, record my observations." One day when she arrived, someone had left the aquarium open, "and there I was lying on the floor of the greenhouse, trying to catch snakes, with my husband helping me," she says with a laugh.
We will have to wait to see if that story ends up in one of her books.
by David Pace
This story is an excerpt and update of Marcia C. Dibble's profile of Ms. Christofferson that appeared in the U's Continuum, now Utah Magazine, in winter 2007-08.